Introduction
It's National Asthma and Allergy Awareness Month! Let's get up to speed with some information provided by the American Lung Association.
Asthma Awareness Month 2019
Every year Asthma Awareness Month is recognized in May. It supports the more than 25 million Americans who may experience asthma symptoms during the peak asthma and allergy season. Unfortunately, this total includes 6.2 million children. Sadly, there is no cure for asthma. However, the good news is that with proper management, you or your loved one with asthma can live a normal, healthy life.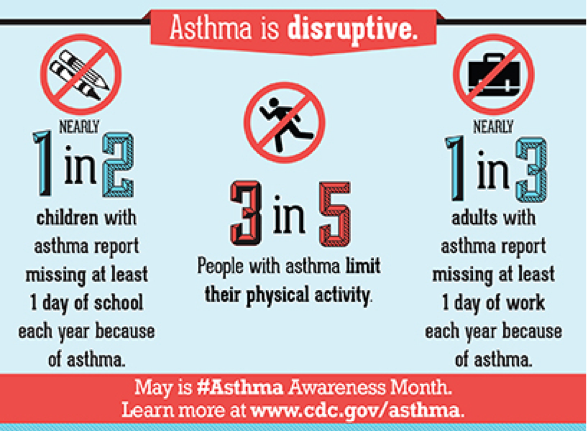 Asthma Basics
What really happens during an asthma attack? What makes asthma symptoms worse? Also, if you can't breathe, what do you do?  The more you can learn about asthma, the better you and your loved ones can manage living with this chronic lung disease. Take this free online course Asthma Basics from the American Lung Association to learn what you need to know. This includes the following:
Recognize and manage triggers like allergens, the environment, behaviors and respiratory infections.
Understand the importance of creating an Asthma Action Plan. Know what to do when asthma symptoms occur!
Know how to respond to a breathing emergency.
This learning module is perfect for adults with asthma, parents of children with asthma, healthcare providers, coaches, teachers and school nurses.
Easy Asthma Management Tips
Gain a good understanding of asthma triggers. Everyone can play a part to create asthma-friendly spaces. Together we can ensure that those living with asthma breathe easier. Additionally, we have resources and tools to better manage asthma year-round. Start with these six steps to help keep asthma under control.
There's More!
Read these Straight, No Chaser posts for additional information on asthma.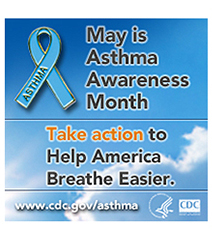 Follow us!
Ask your SMA expert consultant any questions you may have on this topic. Also, take the #72HoursChallenge, and join the community. Additionally, as a thank you, we're offering you a complimentary 30-day membership at www.72hourslife.com. Just use the code #NoChaser, and yes, it's ok if you share!
Order your copy of Dr. Sterling's books There are 72 Hours in a Day: Using Efficiency to Better Enjoy Every Part of Your Life and The 72 Hours in a Day Workbook: The Journey to The 72 Hours Life in 72 Days at Amazon or at www.jeffreysterlingbooks.com. Another free benefit to our readers is introductory pricing with multiple orders and bundles!
Thanks for liking and following Straight, No Chaser! This public service provides a sample of http://www.SterlingMedicalAdvice.com (SMA) and 844-SMA-TALK. Likewise, please share our page with your friends on WordPress! Also like us on Facebook @ SterlingMedicalAdvice.com! Follow us on Twitter at @asksterlingmd.
Copyright ©2013- 2019 · Sterling Initiatives, LLC · Powered by WordPress