Introduction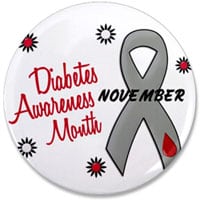 November is National Diabetes Month. The National Heart, Lung, and Blood Institute (NHLBI) has chosen to focus on the link between diabetes and cardiovascular disease. You must come to understand that diabetes isn't just contained to itself. This disease causes devastation across the entire body. For example, adults with diabetes are nearly twice as likely to die from heart disease or stroke as people without diabetes.
Get Empowered During National Diabetes Month
There are steps you can take to manage your diabetes. These same steps can also help lower your chances of having heart disease or a stroke. Try these.
Stop smoking or using other tobacco products.
Know and manage your A1C, blood pressure, and cholesterol levels.
Develop or maintain healthy lifestyle habits. Be more physically active and learn ways to manage stress.
Take medicines as prescribed by your doctor, not based on how you "feel."
Wait, There's More!
Click on the below links for any and all of these Straight, No Chaser posts Diabetes.
Follow us!
Feel free to ask your SMA expert consultant any questions you may have on this topic. Take the #72HoursChallenge, and join the community. As a thank you, we're offering you a complimentary 30-day membership at www.72hourslife.com. Just use the code #NoChaser, and yes, it's ok if you share!
Order your copy of Dr. Sterling's books There are 72 Hours in a Day: Using Efficiency to Better Enjoy Every Part of Your Life and The 72 Hours in a Day Workbook: The Journey to The 72 Hours Life in 72 Days at Amazon or at www.jeffreysterlingbooks.com. Receive introductory pricing with orders!
Thanks for liking and following Straight, No Chaser! This public service provides a sample of http://www.SterlingMedicalAdvice.com (SMA) and 844-SMA-TALK. Please share our page with your friends on WordPress! Like us on Facebook @ SterlingMedicalAdvice.com! Follow us on Twitter at @asksterlingmd.
Copyright © 2019 · Sterling Initiatives, LLC · Powered by WordPress