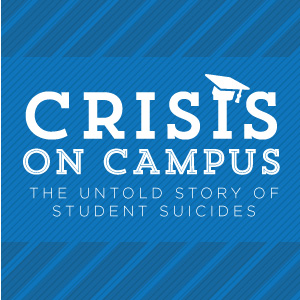 I just had the privilege of spending time at my alma mater addressing issues on behalf of students and mental health services. Among many other things discussed, I was shocked by the extent to which college suicides have become present on college campuses. I wonder when things changed. Isn't college supposed to be the "best four years of your life?" It really doesn't take much though to appreciate how this becomes the case.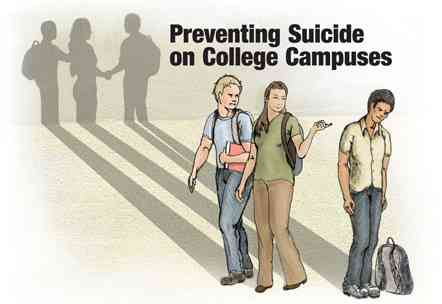 Suicide is the second leading cause of death among college-age students in the United States and the third leading cause among those aged 15-24. There are approximately 1,100 deaths by suicide occurring in this age group each year. A recent study from Johns Hopkins and the University of Maryland went in-depth in surveying and analyzing why students may have thoughts on suicide. Here is a summary of some of the study's findings:
12% of those studied admitted that they had thought of committing suicide.
Of this group of 12%, approximately 25% of them said they had those thoughts repeatedly.
Depression and lack of social support appeared to be major factors contributing to thoughts of suicide.

If you actually think about it, college brings together a lot of risks for suicide.
Late adolescence and early adulthood represents the period of highest risk of developing a major psychiatric disorder.
The academic environment can be a stress-producing inferno for some, who may find themselves overwhelmed and feeling lost and as if they have nowhere to turn.
For many, the college experience represents the first time many are away from home and/or completely detached from the family and friends they've had their entire lives. Unless and until a sufficient new social network is established, levels of isolation can be overwhelming.
Even among those with social networks, the academic failure and any social rejection that may occur could be perceived by students as having life-long consequences, so much so that hopelessness and thoughts of suicide could set into a young adult's mind.
Practically, how might you consider the risk in any one individual? The presence of any of these risk factors should prompt implementation of a support system to counter feelings of suicide.
It shouldn't be difficult to appreciate how the lack of social support is one of the most powerful predictors of persistent suicidal thoughts. Someone who expresses or has feelings of being unappreciated, unloved and uninvolved with family and friends should be considered at risk – even in the absence of any other risk factors.
A history of clinically diagnosed depression or other psychiatric diagnoses
The exposure to domestic violence (either witnessing or having been abused) in childhood
Having a mother with a history of clinical depression
There are many Straight, No Chaser posts that address suicide prevention, diagnosis and treatment. Feel free to use the search box on the right for additional information.If you are a college student or a family member of a college student, you would do well to review your college's support system and learn about services and support available for those in need of mental/behavioral health services. College should represent the beginning of one's adult life, not the place where it ends.
Feel free to ask any questions you may have on this topic.
Order your copy of Dr. Sterling's new book Behind The Curtain: A Peek at Life from within the ER at jeffreysterlingbooks.com, iTunes, Amazon, Barnes and Nobles and wherever books are sold.
Thanks for liking and following Straight, No Chaser! This public service provides a sample of what http://www.SterlingMedicalAdvice.com (SMA) and 844-SMA-TALK offers. Please share our page with your friends on WordPress, like us on Facebook @ SterlingMedicalAdvice.com and follow us on Twitter at @asksterlingmd.
Copyright © 2016 · Sterling Initiatives, LLC · Powered by WordPress