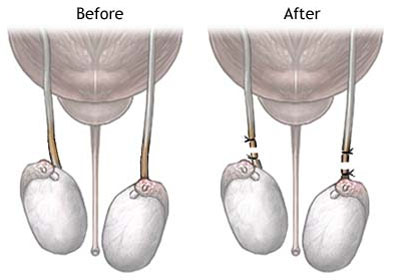 A couple's conversation about having a vasectomy can either be a tense one or it can be a display of trust and cohesion. The decision by a man to have a vasectomy can be a soul-searching "moment of truth." In this Straight, No Chaser, let's look at seven of the issues surrounding vasectomies. At the end there's an illustration of the procedure. Yes, it involves a clip.
A vasectomy is a surgical procedure that involves cutting the tube (the vas deferens) that carries sperm from the scrotum to the testes. The vasectomy prevents sperm from leaving the testes so that the man can't impregnate a woman.
Issue 1: Why would you want it?
The answer to this is relatively straightforward. You'd want a vasectomy if you don't want any, or any more, children. This is a form of sterilization.
Issue 2: When would it be a good option?
If you're in a relationship and both partners agree that you've either had all the children you want or don't want the risk of having any children, a vasectomy would be a reasonable option. Other considerations may include if you can't use other forms of birth control, if pregnancy would be medically unsafe, or if the risk of genetic disease or a birth defect in your offspring is greater than you're willing to accept.
Issue 3: When wouldn't it be a good option?
This gets a little dicey and relates to levels of instability, either in your relationship or other personal situations. A decision to have a vasectomy to please your partner or salvage a relationship may not be the best choice. If you're young or unmarried, you are subject to many life changes that may prompt reevaluating whether you really want a child. For example, if you marry/remarry, children may become more important than they currently are. A vasectomy is a surgical procedure with risks. A decision to have it done as a convenience (e.g., because you are unreliable or don't want to use other forms of birth control) is irresponsible.
Issue 4: How successful is the procedure?
Vasectomies are very successful and have a failure rate of approximately 1 in 2,000. Comparatively speaking, the analogous procedure in females (tubal ligation) has a failure rate of 1 in 200-300. Typical failure rates are due to having sex too soon after the procedure. It takes time for existing sperm to be cleared from both ends of the vas deferens; that existing sperm can still impregnate a woman. This is a major reason why men should wait a week after the surgery and until the sperm count has been documented to be zero in the seminal fluid. To a much lesser extent, rare spontaneous reconnection of the clipped portions of the vas deferens may produce failures.
Issue 5: What complications exist?
Vasectomies are generally very safe, and the complications associated with it are those seen with any surgery. These include pain, swelling and infection. Remember, as we just discussed, the circumstances under which post-vasectomy pregnancies can occur.
Issue 6: What happens should I choose to have it reversed?
It is important for men considering a vasectomy to read and fully understand the next sentence. If you have a vasectomy, you should not consider it reversible. That said, you can spend a lot of money for a microsurgical reversal procedure that is successful about 50% of the time if done within 10 years of the vasectomy and approximately 25% of the time if done after 10 years. Be advised that such reversals are associated with a higher level of birth defects.
Issue 7: About what other considerations should I be concerned?
Men seemingly are most often concerned about post-vasectomy ability to have an erection or orgasm. Vasectomies do not diminish a man's ability to have either.
You should be concerned about the spread of sexually transmitted infections (STIs), which a vasectomy does not prevent. A false sense of confidence may exist after a vasectomy knowing that pregnancy is extremely unlikely, but that has nothing to do with STIs. In fact the greater inclination to have unprotected sex after a vasectomy may put men at greater risk for transmitting or receiving STIs.
Vasectomies do not increase the risk of testicular or prostate cancer.
Most men are satisfied with vasectomies, because most men who have vasectomies do so in the context of a stable and healthy relationship. Men who are most likely to seek reversals do so in the context of unexpected life events (e.g., new partner/marriage with a desire for kids). Sometimes their reconsideration is in response to a tragedy. If you are considering a vasectomy, please only do so after a solemn view of the rest of your life. If you believe it to be stable, you will likely be satisfied with the outcome.
The following clip (click the link) is courtesy of the National Institutes of Health and demonstrates the logistics of the various approaches to the procedure. Feel free to leave any comments or ask any questions you may have.
Vasectomy
Thanks for liking and following Straight, No Chaser! This public service provides a sample of what http://www.SterlingMedicalAdvice.com (SMA) offers. Please share our page with your friends on WordPress. We are also on Facebook at SterlingMedicalAdvice.com and Twitter at @asksterlingmd.
Copyright © 2013 · Sterling Initiatives, LLC · Powered by WordPress