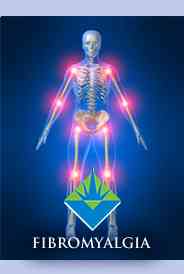 Previously, Straight, No Chaser has discussed the frustration of uncertainty some patients have with having symptoms and not being given a diagnosis (much less a cure). Imagine if that uncertainty arose in the context of excruciating pain lasting for what seems like all day. There was a time when this was the case to a much greater extent, and then several medical conditions gained recognition and/or prominence. Some of these include chronic pain syndrome, chronic fatigue syndrome, temporomandibular joint syndrome (TMJ syndrome), endometriosis, inflammatory bowel disorder, vaginismus, vulvodynia and still other conditions. Today's Straight, No Chaser addresses one such condition, fibromyalgia.
The symptoms of fibromyalgia include muscle pain and fatigue. This pain may take one of several typical forms, including headaches, painful menstrual periods and – most interestingly – "tender points." Tender points are specific places on the body that hurt when you apply pressure. These can occur most anywhere but usually involve the extremities, neck, back, hips and shoulders. Other symptoms include numbness and tingling in your hands and feet, difficulty sleeping and morning stiffness. In some cases a condition called "fibro fog" occurs, in which clouding of thinking and memory occurs. It shouldn't be a surprise that these other symptoms often result in clinical depression.
Unfortunately, fibromyalgia is a condition, not a disease that we can attach to a specific cause. However, there are several diseases to which fibromyalgia has been linked. In short, many stressful life conditions and events can serve as triggers for this disorder. Some of the more notable conditions and triggers include ankylosing spondylitis (aka spinal arthritis), motor vehicle crashes, rheumatoid arthritis and systemic lupus erythematosus (aka lupus). So many such triggers exists that now over 5 million Americans have been labeled with the diagnosis. Interesting, 80-90% of those so diagnosed are women, most during middle age.
Given the absence of an identified cause, treatment is mostly symptomatic, attempting to address the pain and other things that disrupt one's activities of daily living. More importantly, once affected, you need to implement the lifestyle changes that have been shown to help, including improving diet, exercise, getting enough sleep, changing one's work and home environments, and taking medications as prescribed.
I would be remiss (and not very Straight, No Chaser), if I didn't address the controversies surrounding fibromyalgia. Given the absence of a defined cause, many patients suffering from fibromyalgia and similar disorders are often perceived to be drug seeking, particularly in emergency departments. It is very frustrating for physicians to care for patients they can't "fix." Although drug-seeking patients do exist, multiple medical studies have shown that inadequate treatment of pain remains one of the great faux pas of medicine. It is an equal disservice to give in to a patient's request for pain medication as a routine matter without the benefit of a full evaluation. There are many defined medical conditions that present with pain. More deliberate and vigorous evaluations can not only put a more definitive name to the pain but can lead to better outcomes for those patients.
Thanks for liking and following Straight, No Chaser! This public service provides a sample of what 844-SMA-TALK and http://www.SterlingMedicalAdvice.com(SMA) offers. Please share our page with your friends on WordPress. We are also on Facebook at SterlingMedicalAdvice.com and Twitter at @asksterlingmd.