Introduction
April is National Minority Health Month. In this Straight, No Chaser post, we discuss what you can do to get active and stay healthy. Thank you to the Center for Disease Control and Prevention (CDC) and the Office of Minority Health (OMH) for providing this valuable information.
"Without health and long life, all else fails."
– Dr. Booker T. Washington
Dr. Booker T. Washington recognized that health is the key to progress and equity in all other things. Accordingly, he proposed the observance of "National Negro Health Week" in April 1915. He called on local health departments, schools, churches, businesses, professional associations and the most influential organizations in the African-American community to "pull together" and "unite… in one great National Health Movement." That observance grew into what is today a month-long initiative: National Minority Health Month. This effort seeks to advance health equity across the country on behalf of all racial and ethnic minorities.
In this post, we will focus on the contribution of physical activity. It is one of the best things people can do to improve their health. In general, too few Americans get the recommended amount of daily activity. In fact, only 1 in 4 adults and 1 in 5 high school students fully meet physical activity guidelines for aerobic and muscle-strengthening activities. These numbers are even lower among adults in some racial and ethnic minority populations.
Physical activity promotes health and reduces the risk of chronic diseases. Importantly, these conditions are often more common and more severe among racial and ethnic minority groups. Physical activity also fosters normal growth and development in children. Also, it improves mental health and can make people feel, function and sleep better.
How much physical activity do I need?
The Physical Activity Guidelines for Americans standards outline the amounts and types of physical activity needed to maintain or improve overall health. It also points the way forward to reducing the risk of chronic disease. The guidelines recommend that each week, adults get at least 150 minutes of moderate intensity aerobic activity. Examples of this level include something as simple as a brisk walk that makes your heart beat faster. There are many ways to get this amount. How about a 22-minute walk each day? Could you do a 30-minute walk five days a week? Every little bit counts.
How much physical activity do children need?
Preschool-aged children should do physical activity every day throughout the day. This is important for healthy growth and development. Starting at age 6, children should participate in at least 60 minutes of moderate-to-vigorous intensity physical activity daily. Remember: children imitate adults. You can start them by adding physical activity to your own daily routine. Encourage your child to join you!
How can communities help people stay active?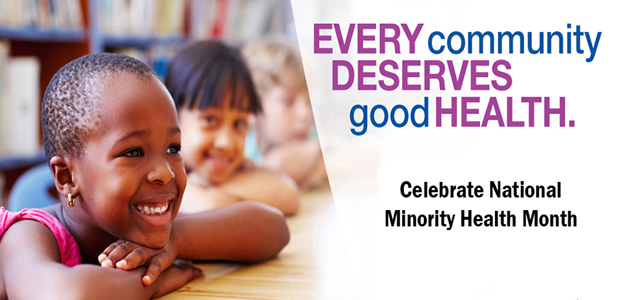 Communities can create easy and safe options for physical activity. These can help every American be more active where they live, learn, work, and play. The Racial and Ethnic Approaches to Community Health (REACH) program is a CDC program that focuses on reducing chronic disease for specific racial and ethnic groups. The program spams urban, rural, and tribal communities with high disease burden across the United States. REACH has demonstrated that locally based and culturally tailored efforts can be effective in closing health gaps.
How can I help people become more physically active?
This year's National Minority Health Month theme this year is "Active and Healthy". You can advance health equity by sharing why physical activity matters and the benefits of physical activity. The Physical Activity Guidelines for Americans outline the amounts and types of physical activity needed to maintain or improve overall health. It also shows how to reduce the risk of chronic disease. Additionally, the Move Your Way campaign provides resources to help further explain the Physical Activity Guidelines for Americans. Share and embrace this information. Furthermore, in your own life, be the message!
There's More!
Visit these Straight, No Chaser posts for more information on minority health during National Minority Health Month.
Follow us!
Ask your SMA expert consultant any questions you may have on this topic. Also, take the #72HoursChallenge, and join the community. Additionally, as a thank you, we're offering you a complimentary 30-day membership at www.72hourslife.com. Just use the code #NoChaser, and yes, it's ok if you share!
Order your copy of Dr. Sterling's books There are 72 Hours in a Day: Using Efficiency to Better Enjoy Every Part of Your Life and The 72 Hours in a Day Workbook: The Journey to The 72 Hours Life in 72 Days at Amazon or at www.jeffreysterlingbooks.com. Another free benefit to our readers is introductory pricing with multiple orders and bundles!
Thanks for liking and following Straight, No Chaser! This public service provides a sample of http://www.SterlingMedicalAdvice.com (SMA) and 844-SMA-TALK. Likewise, please share our page with your friends on WordPress! Also like us on Facebook @ SterlingMedicalAdvice.com! Follow us on Twitter at @asksterlingmd.
Copyright ©2013- 2019 · Sterling Initiatives, LLC · Powered by WordPress