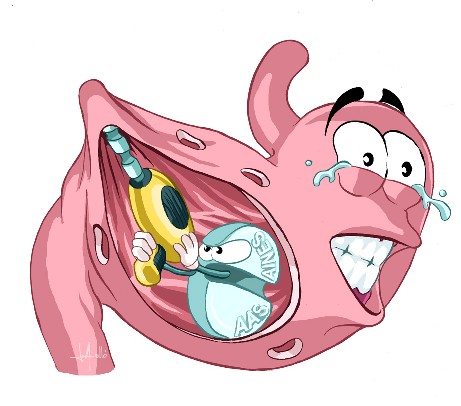 Peptic ulcer disease (PUD) has an increasing incidence in the general population and particularly so in the elderly, due to a liberal use of NSAIDs (non-steroidal anti-inflammatory agents, such as ibuprofen, aspirin, naproxen).  These painful sores in the lining of the stomach or first part of the small intestine make for many a bad day (and night).  That ulcer is the end result of an imbalance between digestive fluids in the stomach and duodenum.
What you didn't know is a bacterial is responsible for most cases.  I'll come back to that.
You're predisposed to PUD if you smoke or drink, use NSAIDs or take steroids.
Complications abound.  PUD is actually the #1 cause of abdominal organ rupture.  Other complications include bleeding and obstructions (that you'll recognize as nausea and vomiting to accompany the pain).
Here we go again with prevention.  If you don't want an ulcer, or if you want your ulcer to be better, stop the habits that produce it.  I'm talking about smoking, drinking alcohol and taking the pain pills.  Let me be clear: ALL patients with peptic ulcer disease should stop smoking, stop drinking alcohol and avoid NSAIDs.
Severe ulcers are treated with surgery or by endoscopy (which is also the method of diagnosing ulcers – this involves placing a tube down your throat to directly visualize the areas and possibly repairing damage if it's amenable to that).
Less severe ulcers may be treated with various medications called proton pump inhibitors.  You'll recognize these acid reducers by names such as aciphex, nexium, prevacid, prilosec and protonix.  If you are discovered to have an infection, antibiotic combinations can be given for one to two weeks for the involved bacteria (Helicobacter pylori) in addition to the proton pump inhibitors.  None of these will address the situation if you don't make those lifestyle adjustments.
Questions or comments?