Introduction
This Straight, No Chaser guide loses at the drug overdose epidemic in the United States.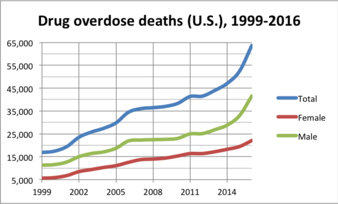 Drug overdose deaths continue to increase in the United States. Deaths from drug overdose are up among both men and women, all races, and adults of nearly all ages. Two out of three drug overdose deaths involve an opioid. Opioids are substances that work in the nervous system of the body or in specific receptors in the brain to reduce the intensity of pain. Overdose deaths from opioids, including prescription opioids, heroin, and synthetic opioids (such as fentanyl) have increased almost six times since 1999.
Data on the Drug Overdose Epidemic
70,237 drug overdose deaths occurred in the United States in 2017. This is an increase of nearly 10% from 2016. Opioids are currently the main driver of drug overdose deaths. Opioids were involved in 47,600 overdose deaths in 2017 (67.8% of all drug overdose deaths), and 36% of those deaths involved prescription opioids. Deaths from prescription opioids totaled over 17,000 deaths in 2017, equivalent to approximately 46 deaths per day. For various reasons this is thought to be a undercounting of the scope of the problem.
In 2017, the states with the highest rates of death due to drug overdose were West Virginia (57.8 per 100,000), Ohio (46.3 per 100,000), Pennsylvania (44.3 per 100,000), the District of Columbia (44.0 per 100,000), and Kentucky (37.2 per 100,000). This chart is a graphic representation of states with increases in deaths due to drug overdose.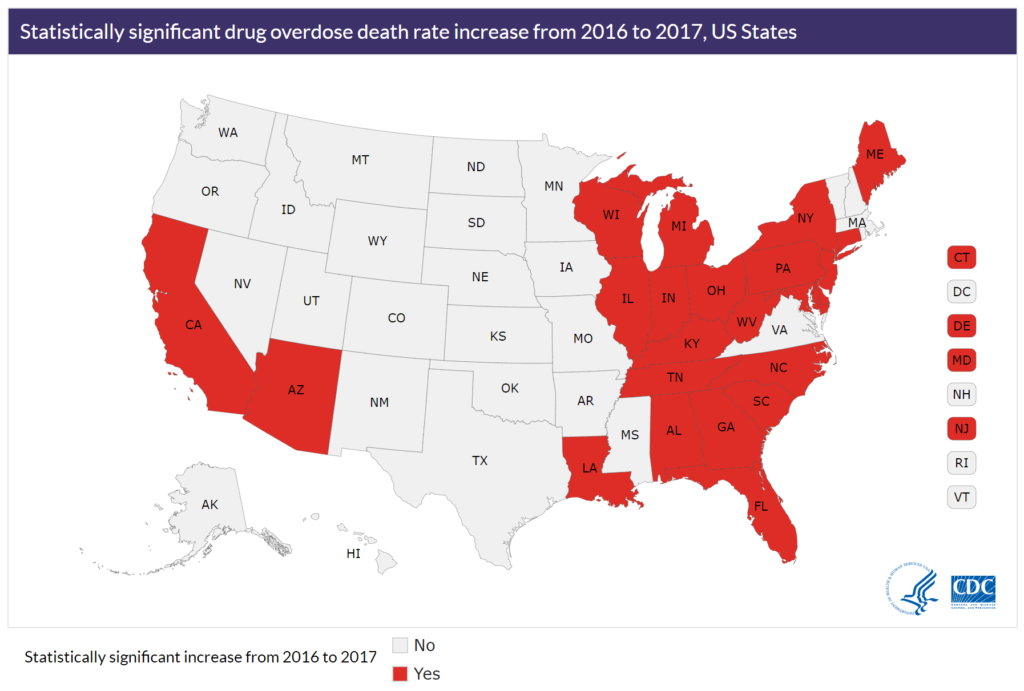 There's More!
Read these Straight, No Chaser posts for details and discussion on various types of drug abuse.
Follow us!
Ask your SMA expert consultant any questions you may have on this topic. Also, take the #72HoursChallenge, and join the community. Additionally, as a thank you, we're offering you a complimentary 30-day membership at www.72hourslife.com. Just use the code #NoChaser, and yes, it's ok if you share!
Order your copy of Dr. Sterling's books There are 72 Hours in a Day: Using Efficiency to Better Enjoy Every Part of Your Life and The 72 Hours in a Day Workbook: The Journey to The 72 Hours Life in 72 Days at Amazon or at www.jeffreysterlingbooks.com. Another free benefit to our readers is introductory pricing with multiple orders and bundles!
Thanks for liking and following Straight, No Chaser! This public service provides a sample of http://www.SterlingMedicalAdvice.com (SMA) and 844-SMA-TALK. Likewise, please share our page with your friends on WordPress! Also like us on Facebook @ SterlingMedicalAdvice.com! Follow us on Twitter at @asksterlingmd.
Copyright ©2013- 2019 · Sterling Initiatives, LLC · Powered by WordPress