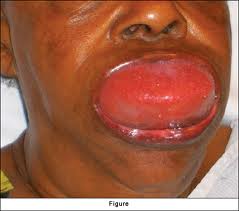 Here at Straight, No Chaser, we want you to know how to prevent disease and injury because that's a lot easier than the alternative. However, if and when the time comes, you should also have a few tools in your arsenal to stave off a life-threatening situation. One of the more scary examples of needing help is acute swelling of your tongue, sometimes so much so that your airway appears as if it will be blocked.
The most common cause of acute tongue, lip or throat swelling is called angioedema. This is an allergic reaction and occurs in two varieties.
A life-threatening allergic reaction (anaphylaxis) sometimes occurs shortly after an exposure to substance such as medicine, bee or other insect stings or food. It can throw your entire body into a state of shock, including involvement of multiple parts of the body. This can include massive tongue swelling, wheezing, low blood pressure resulting in blackouts and, of course, the rash typified by hives (urticaria).
Sometimes lip, tongue and/or throat swelling may be the only symptoms.  This is more typical of a delayed reaction to certain medications, such as types of blood pressure medications (ACE inhibitors and calcium channel blockers), estrogen and the class of pain medication called NSAIDs (non-steroidal anti-inflammatory drugs, such as ibuprofen)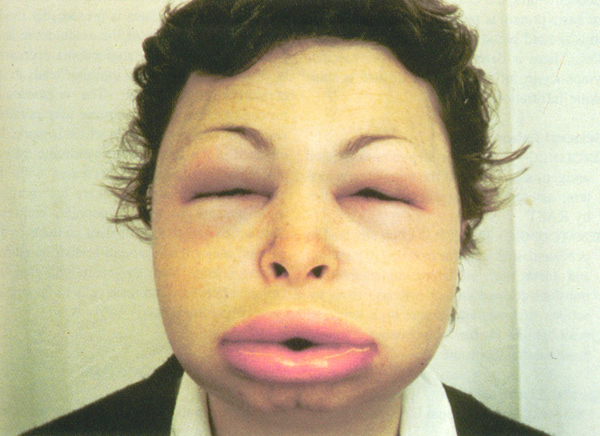 With any luck, you would already know you're at risk for this condition, and your physician may have prompted you to wear a medical alert bracelet or necklace. In these cases, your physician may have also given you medicines and instruction on how to take them in the event you feel as if your tongue is swelling and/or your throat is closing. These medicines would include epinephrine for injection, steroids and antihistamines such as Benadryl. As you dial 911 (my recommendation) or make your way to the nearest hospital, taking any or all of these medications could be life-saving. By the way, those are among the same medicines you'll be treated with upon arrival to the emergency room. In severe cases, you may need to be intubated (i.e. have a breathing tube placed) to maintain some opening of the airway.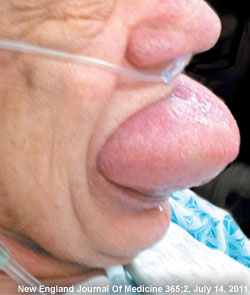 If the swelling is (or assumed to be) due to any form of medication, symptoms will improve a few days after stopping it. If the swelling in this instance becomes severe enough, treatment may resemble that of the life-threatening variety.
There are few things better than cheating death. If you're at risk, carry that injectable epinephrine (e.g. an Epi-pen). If you're affected, take some Benadryl and/or steroids if you've been taught what dose to take, and most importantly, don't wait to see if things improve. Get evaluated, get treated and get better!
I welcome your questions and comments.
Feel free to ask your SMA expert consultant any questions you may have on this topic.
Take the #72HoursChallenge, and join the community. As a thank you for being a valued subscriber to Straight, No Chaser, we'd like to offer you a complimentary 30-day membership at www.72hourslife.com. Just use the code #NoChaser, and yes, it's ok if you share!
Order your copy of Dr. Sterling's new books There are 72 Hours in a Day: Using Efficiency to Better Enjoy Every Part of Your Life and The 72 Hours in a Day Workbook: The Journey to The 72 Hours Life in 72 Days at Amazon or at www.72hourslife.com. Receive introductory pricing with orders!
Thanks for liking and following Straight, No Chaser! This public service provides a sample of what http://www.SterlingMedicalAdvice.com (SMA) and 844-SMA-TALK offers. Please share our page with your friends on WordPress, like us on Facebook @ SterlingMedicalAdvice.com and follow us on Twitter at @asksterlingmd.
Copyright © 2018 · Sterling Initiatives, LLC · Powered by WordPress