Actually, humans have a few different "inevitable" diseases, but today we're discussing arthritis, specifically degenerative joint disease (osteoarthritis). For this conversation, the inevitability of arthritis is based in the gradual wear and tear on your joints. It seems our design includes an expiration date on our joints. By now, you're likely wondering why. The answer is in the definition.
Arthritis is inflammation of one or more of your joints.
Inflammation is a process of some form of attack to an area, producing symptoms that usually include redness, swelling, warmth and pain.
A joint is the area where two bones meet.
It stands to reason that when regular use becomes wear and tear, ongoing inflammation ensues, the structure of your bones and joints changes and function decreases. This is why you see decreased movement and deformities in the involved joints of arthritics.
What I just described was a reasonable description of osteoarthritis, the most common form of arthritis, but in fact there are over 100 different types of arthritis. Given its importance in helping you understand and treat yourself and/or your loved one with arthritis, let's review the common and distinguishing mechanisms.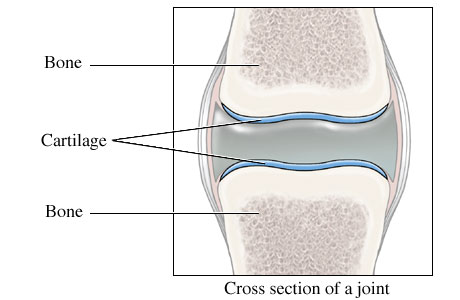 Arthritis involves the breakdown of cartilage, which is the tissue coating the ends of two bones at a joint. Its purpose is to keep the bones in place and moving smoothly. When cartilage is damaged, the bones rub together. This damage results in pain, swelling, stiffness, warmth and redness—inflammation.
The causes of this inflammation are broad but typically center on four mechanisms:
The aging process itself causes sufficient wear and tear on the body, including bones and cartilage, such that the joints will suffer. This represents the most common form of arthritis: degenerative joint disease, aka osteoarthritis.
When you break bones, especially near a joint, the resulting damage and/or insufficient healing will expedite the development of arthritis.
When you develop certain infections, they can occur in the bones/joints or target those areas. This also can lead to arthritis.
The body's immune system sometimes mistakenly views certain parts of the body as foreign. When this occurs, it will attack healthy tissue, including bones and cartilage. These conditions are known as autoimmune disorders, and they cause inflammation and can lead to acute and chronic arthritis.
You've heard of many different forms of arthritis. If you know anyone with any of the following diseases, they likely have arthritis as part of (if not the predominant feature of) the disease.
Ankylosing spondylitis
Gonococcal (i.e., due to gonorrhea) arthritis and other arthritis due to other bacterial infections
Gout
Juvenile rheumatoid arthritis (in children) and rheumatoid arthritis (in adults)
Psoriatic arthritis
Reactive arthritis (Reiter syndrome)
Scleroderma
Systemic lupus erythematosus (SLE)
The inflammation and other symptoms usually go away if you can find and treat the cause. If it doesn't go away, or if it goes untreated, chronic arthritis will develop.
Here are the various conversations you should have with your physicians regarding arthritis:
"I have a family history of arthritis. Should I be concerned?"
"I have a newly swollen joint but didn't strain or sprain anything."
"All of a sudden my joint (or joints) have really started hurting."
"My skin in my (knee, elbow or other joint) is very hot and very red."
"I have arthritis, and now I'm having problems moving my joint."
"I have arthritis, and the swelling is much worse."
"I have arthritis, and my pain has lasted more than three days."
"I have arthritis, and I have developed a fever plus my joints are really aching."
"I have arthritis, and I seem to be losing weight."
This afternoon, I'll discuss general treatment of arthritis and tips you can use to help yourself or your loved one with arthritis. I welcome any questions or comments you may have on this topic.
Thanks for liking and following Straight, No Chaser! This public service provides a sample of what 844-SMA-TALK and http://www.SterlingMedicalAdvice.com (SMA) offers. Please share our page with your friends on WordPress, Facebook @ SterlingMedicalAdvice.com and Twitter at @asksterlingmd.
Copyright © 2014 · Sterling Initiatives, LLC · Powered by WordPress