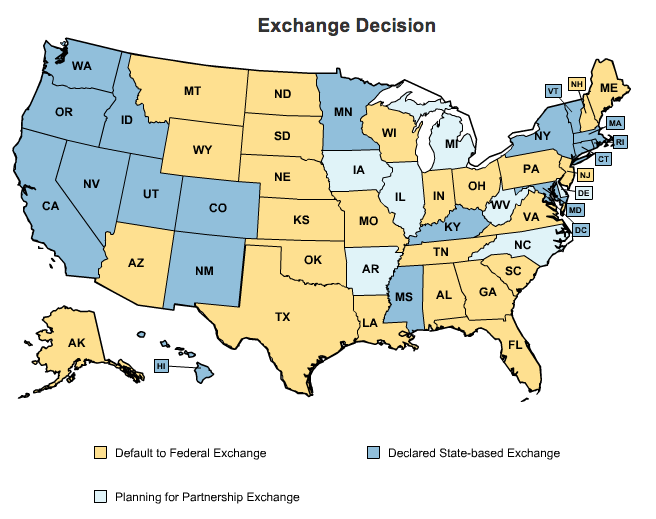 No politics here folks, just facts. The bottom line is the Affordable Care Act (ACA) isn't going anywhere prior to implementation, so let's look at where things are. You can go here for previous comments on the ACA.
1. What changes today? The exchanges as scheduled to open for administrative business and to begin signing up customers. This is expected to affect approximately 30 million Americans who previously had not been covered by insurance plans. However, online enrollment has been delayed until November. It is still thought this won't delay the onset of benefits.
2. Do I qualify for an exchange? You do if you are an employee of a business with less than 50 employees and have to buy your own insurance, and if you currently can't get insurance because of a preexisting medical condition, or you can't afford the cost.
3. So do I have insurance today if I enroll? No. Benefits begin on January 1st.
4. What about the individual mandate? It's still in effect. Starting January 1st, most Americans must either be insured or face a fine.
5. What about the employer mandate? It's actually been delayed until 2015. This mandate requires any company with over 50 employees to offer benefits to anyone working more than 30 hours a week.
6. Is any of this affected by the governmental shutdown? No. In short, funding for the ACA is not under the control of Congress.
7. How do I know what's happening in my state? 16 states plus the District of Columbia are setting up their own exchanges. The other 34 states  are being run either totally or partially by the federal government. Refer to the lead picture to see what your state is doing, then go to www.healthcare.gov for details.
8. How does the insurance provided by the exchanges compare with that of traditional insurance? Different exchange plans will have different levels of coverage (eg.bronze, silver, gold and platinum). You'll get to select a plan based on your needs.
9. What about the costs? This is tricky. Obviously, the plans differ based on the one selected. Additionally, if you're below 400% of the poverty level (which equals $45,960 for an individual and $92,200 for a family of four), you'll be eligible for tax credits to bring down the costs of the respective plans. In general, the costs of individual insurance within the exchanges will be dramatically lower than private insurance for those who qualify.
10. Where do I sign up and/or get more information? Try www.healthcare.gov.